Hi Guys
High number of N.NsaDc.SgNB.Add.Fail.Radio.UeCapability in some cells.
Vendor is Huawei.
Do you have any comments?
Signature indicate UE doesn't support endc, i.e. sgnb addition.
Can you check attach request message content having endc related bit as supported?
From Core end handover restriction list not there.
Check UE capability, if endc supported.
I think this counter is counted after gnb received Sgnb_add_req but gnb response with add_fail.
So, it means enb already know UE supported endc before sending add_req.
In sgnb_add_req, enb also sent ue cap to gnb, maybe gnb detect the ue capability not match with 5G cell (for e.g.: encryption, features…).
Correct.
Or it may possible that ENDC is not supported between that band combination.
Potential Capability mismatch
Is It DSS??
Is BW 70 or 90 MHz??
If the MeNB intends to start the SgNB Addition procedure, but EN-DC and/or NR containers from UE Capabilities are missing, the MeNB usesUE Capability Transfer procedures to try to retrieve those containers from UE(to check if UE supports EN-DC in its UE EUTRA Capabilities)
the SgNB Addition procedure is not triggered, due to missing EN-DC and/or NR containers from UE Capabilities
I am receiving the "N.NsaDc.SgNB.Add.Fail.Radio.UeCapability".
I collect this trace from UU but I can´t to find something different.
Could you check the features and try to find something?
You will not easily spot a difference.
Compare it with a working UE having same bands.
Then it will be easier, only few items different.
I know that mobile supports my NSA band (Band 1).
Just a doubt: These is the band to NR or DC?
It says bandNR-r15 so is NSA.
I´ve LTE1800 (Band 3), LTE2600 (Band 7) and NR2100 (Band 1).
I didn´t see Band 7 here.
Is it a problem?
What else can I try to find in this message about the UE Capabiity problem?
I think it just says supported bands in NR. Not sure if it means NSA…
There are special fields for SA.
Okay.
How I check for NSA band combos is through Band combination IE and not band NR?
Because I thought band NR would also report SA bands.
It is too long @Cesar_Nunes, just compare it with another UE, domain by domain.
First find UE type from SIP messages of its IMSI.
Then it will be easier.
Maybe is just a faulty UE and all other devices of same type and model work OK.
Do you get RRC reconfiguration complete to setup the SCG?
And after that do you get a an SCGFailure information or not for this faulty UE?
Good UE: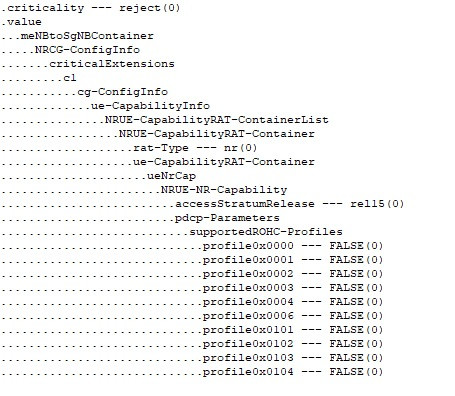 Problem UE:
What does it means? supportedROHC
Robust header compression for VoNR.
Correct: device supports the band 1, but does it supports the mrdc (LTE + NR) band combinations.
For this you have to look in ue-mrdc-capability.
And this is capability enquiry and not capability information. Whether UE supports or not you will have to see in capability information.
Great!
This UE does not support NR Band1 and LTE band 3 or 7:
Am I correct?
And this one does (Good UE):
It supports B3 + n77, by looking at the snip.