An SRS Transmission can occupy up to 272 RBs in the frequency domain, but an individual UE does not transmit the SRS on every subcarrier but selects specific SCs based on transmission comb type.

5G supports two types of transmission Comb(2 & 4)

TX Comb 2 means an individual UE transmits on every second subcarrier. This allows two groups of UE to be frequency multiplexed with a single Sub-Carrier offset.

TX Comb 4 increases the frequency domain multiplexing capability but reduces the quality of the SRS. Because the UE will transmit the SRS at a number of Subcarriers. ( Higher SCS density improves channel measurement)

UE sharing the same transmission comb are code multiplexed by allocating different cyclic shifts.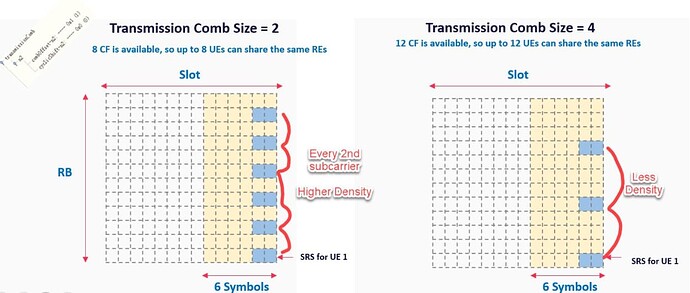 LinkedIn: