PDCCH is the heart of the air interface as it allocates and informs the UE about all the information needed for any service.

In addition to this, Proper optimization of the PDCCH resources is one of the most vital parts of either 4G or 5G, As PDCCH congestion, blocking, or coverage/quality issues(High BLER) can have a severe impact on services such as Volte/VoNR Calls and Latency(Ex: Users will wait longer in the queue waiting for the scheduling information in case of congestion or Load imbalance between existing carriers in your network)

5G PDCCH is mainly used to transfer Downlink control information(DCI), which is the same function as 4G.

Downlink Control Information (DCI) provides the UE with the necessary Scheduling information, such as DL/UL resource allocation and UE Common group signaling; DCI Provides the resource allocation information for applications such as SIB1, MSG2/3/4, Paging, and UE Data Transfer. The figure below summarizes DCI's Main contents.

Simply, Resource allocation information means to inform the User about the Set of Frequency resources needed, such as the number of resource blocks required and the location of these RBs in the frequency and time domain; in addition to this, it also informs the User about the MCS Table(64QAM or 256QAM) to be used and other information about HARQ feedback. (Examples added below for visual understanding.)

In General, 8 DCI formats are transmitted at the PDCCH and can be deduced by the Users.
Study Sources: 5G NR in Bullets & The Next Generation Wireless Access Technology Books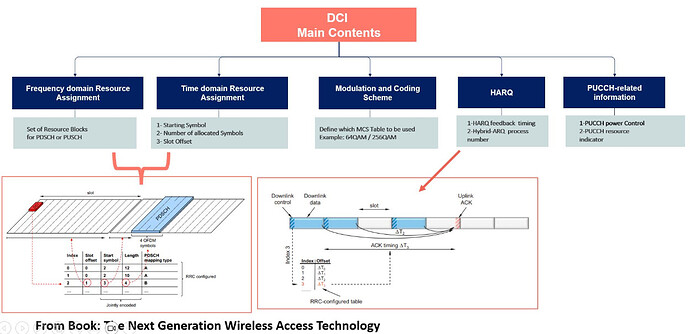 LinkedIn: