And what is the expected gain of enabling SRB3 in NR?
First, Let`s quickly recap the meaning of Signaling Radio Bearer.

Signaling Radio Bearers (SRB) are used to transfer RRC messages between the UE and Base Station.
RRC messages can encapsulate NAS messages, so SRBs are also responsible for transferring NAS messages between the UE and Base Station.
The NG Application Protocol (NGAP) transfers NAS messages between the Base Station and AMF.

3GPP has specified 4 types of SRB for New Radio (NR):

SRB 0 transfers RRC messages that use the Common Control Channel (CCCH) logical channel
SRB 1,2 and 3 transfer RRC messages that use the Dedicated Control Channel (DCCH) logical channel.
SRB 1 supports RRC signaling between the UE and Base Station but can also encapsulate NAS messages before the setup of SRB 2
SRB 2 is always set after security activation and encapsulates NAS messages.
SRB 2 messages are handled with lower priority than SRB 1 messages.
So, What is the SRB3?
SRB 3 is applicable when using the 'E-UTRAN New Radio Dual Connectivity' (EN-DC) configuration

SRB3 is optional and provides a direct SRB between the Secondary RAN Node and the device.

RRC Signaling through using NR SRB3 might reduce the latency.

The following RRC messages will be handled through SRB3 For EN-DC operation:

RRC Reconfiguration.
RRC Reconfiguration Complete.
Measurement Report.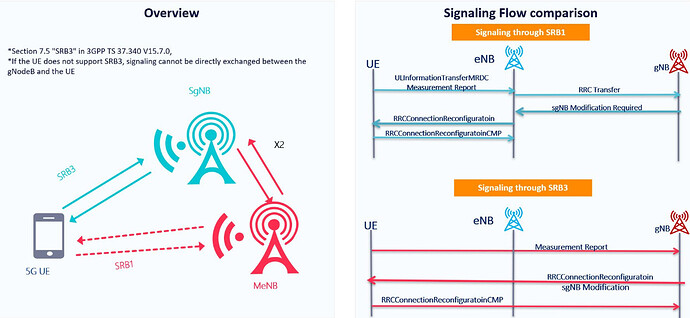 LinkedIn: