The Voice over New Radio (VoNR) in 5G is similar to VoLTE in 4G.
In VonR, UE can have both voice & data services on 5G network.
𝐃𝐨 𝐰𝐞 𝐡𝐚𝐯𝐞 𝐅𝐚𝐥𝐥𝐛𝐚𝐜𝐤 𝐟𝐫𝐨𝐦 𝟓𝐆 𝐭𝐨 𝟒𝐆 ?

Yes, we can redirect call from 5G to 4G and it's called 𝐄𝐏𝐒 𝐅𝐚𝐥𝐥𝐛𝐚𝐜𝐤.

𝐃𝐨 𝐰𝐞 𝐡𝐚𝐯𝐞 𝐒𝐑𝐕𝐂𝐂 𝐢𝐧 𝟓𝐆, 𝐢 𝐦𝐞𝐚𝐧 𝐜𝐚𝐧 𝐰𝐞 𝐇𝐎 𝐜𝐚𝐥𝐥 𝐟𝐫𝐨𝐦 𝟓𝐆 𝐭𝐨 𝟑𝐆 ?

No, as per Rel-15, there is no support for voice call continuity between 5G and 3G Circuit Switched (CS)

𝐃𝐨 𝐰𝐞 𝐡𝐚𝐯𝐞 𝐂𝐨𝐯𝐞𝐫𝐚𝐠𝐞-𝐛𝐚𝐬𝐞𝐝 𝐇𝐚𝐧𝐝𝐨𝐯𝐞𝐫 𝐟𝐫𝐨𝐦 𝟓𝐆 𝐭𝐨 𝟒𝐆 ?

Yes, When the UE moves out of 𝟓𝐆 coverage, inter-RAT handover is initiated, and VoLTE is provided in the LTE coverage area instead, but we must enable N26 interface between 5G-AMF & 4G-MME
𝐍𝐨𝐭𝐞: Without N26 interface Voice call handover is not possible between 5G to 4G due to Voice interruption time.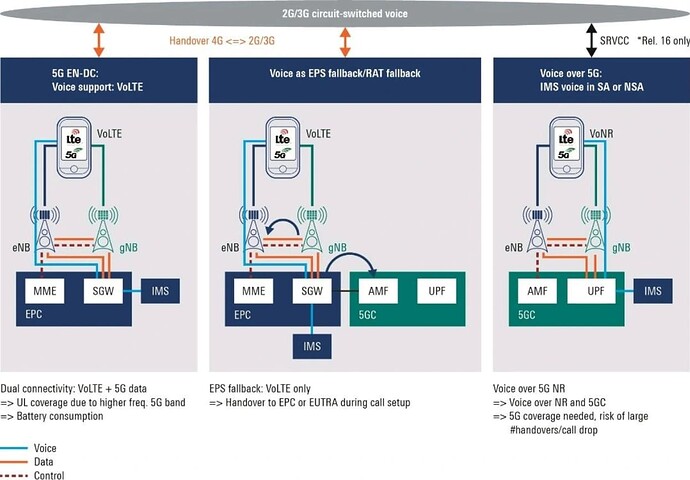 LinkedIn: