Q. LTE Throughput have been degraded once 5G-NR DC configured?

A. In NSA deployment, 5G Secondary node addition have been configured during normal LTE-ERAB_Setup progress in RRC_Connection_Reconfiguartion once UE_Capability information include UE-MRDC-Capability , SupportedBandListNR-r15 IEs.
5G Secondary node addition means UE that camped on LTE will enter MR GAP configured via RRC_Connection_Reconfiguartion to measure 5G-NR Cell and triggering B1 event as shown below.
Problem here is that for UEs that did not locate in 5G-NR coverage will continuous config LTE GAP pattern forever as not suitable 5G NR coverage can get to report event B1. This behavior will degrade LTE user throughput around 25% as shown below.
Note that for UE that support 5G inter-system measurements without Measurement Gaps have no effect on LTE throughput degradation. But not all UEs may support this , many UEs would be unable to complete 5G measurements if Measurement Gaps are disabled.
Solution:
Design LTE cell edge coverage to align with 5G-NR Scell-addition coverage as possible.
Specify timer to allocate measurement gaps only for the first 3Sec of a RRC connection then end MeasureGap after 3Sec expiration.
Define how long the B1 measurements are going to be active, and if deactivated, how long it will take to reactivate the B1-NR measurements.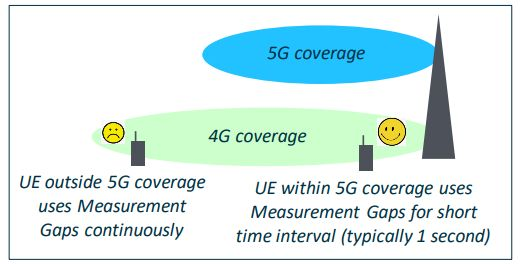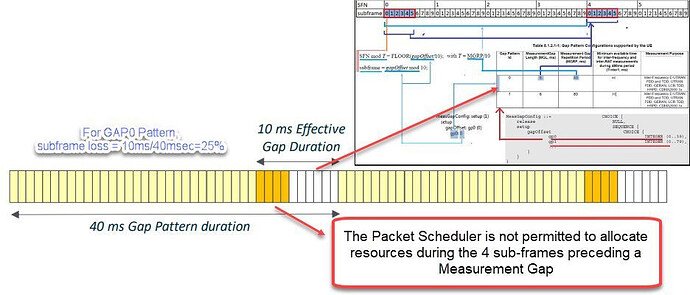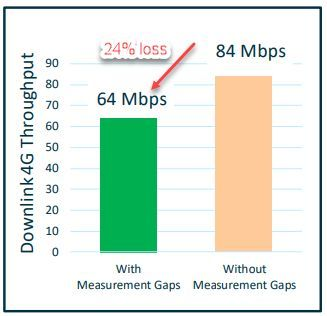 Reference: Telefonica
LinkedIn: Fathi Farouk on LinkedIn: #optimizationhassle #5g #5gtechnology #5gnr #5gnetwork #optimizationhassle