Smartphone Market Analysis for Global, US, China and India are out.
►The key theme being the resilient premium segment and Apple performing better than the market as well as competition.
►Market is moving from a volume driven approach to a value driven approach.
► Smartphone purchases are becoming more discretionary
Global Smartphone: Declines for 8th straight quarter; Premium Segment reaching Q2 record
► Samsung led the quarter with healthy A-series demand as Xiaomi and vivo faced headwinds.
► Apple came in second with its share growing to 17% despite unfavorable seasonal factors.
China: Lowest Q2 since 2014; Apple grows unchallenged
► Sales declined 4% YoY for Q2 2022. Sales in 618 festival also declined YoY.
► Apple's sales increased 7% YoY in a declining market
US: Lower upgrades
► Shipments Fall 24% YoY in Q2 2023 on Lower Upgrade Rates
► Android smartphone shipments declined 38% while Apple shipments fell 6% YoY.
►Consumers hesitated to purchase smartphones amid economic uncertainty.
India: Premiumization trend key
►India Premium Smartphone Segment Grows 112% YoY in Q2 2023; India Now Among Apple's Top 5 Markets
► Samsung led for third consecutive quarter
► End of Q2 2023 - 8 weeks of inventory as Xiaomi and realme managed to clear most of their inventory through multiple sales and promotions.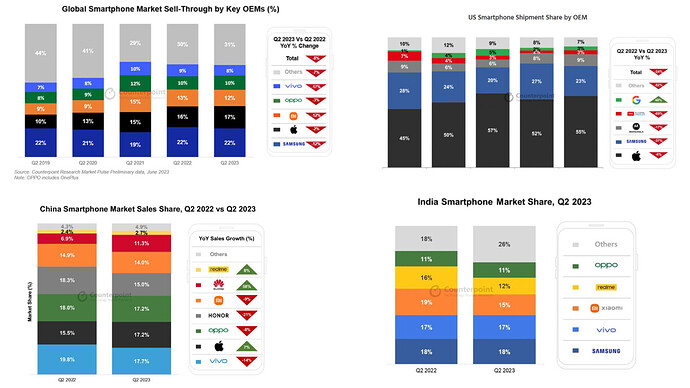 Credits: