If you're in a hurry, this is today's tip:
When participating in a TEAMS Meeting, and someone is presenting, click 3 dots (…) button and choose "Focus on Content".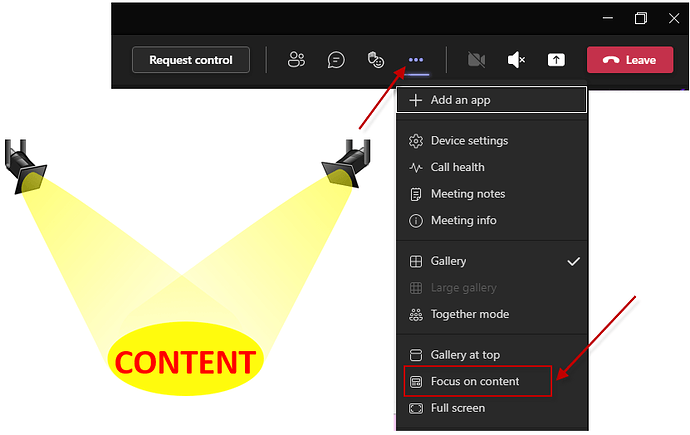 But if you have sometime, please continue reading - and you will see how to help to improve it even more…

When someone in a Team meeting shares content, it opens the screen share in "Gallery Mode".
But this is not the best experience - if someone is presenting content the focus should be… the content!
Any other info in the Window is a "distraction".
So, next time you participate in a Teams Meeting, remember to click 3 dots (…) button and choose "Focus".
Also note that, besides "Focus" mode you can also choose "Full Screen" mode - to avoid even more distractions.
Unfortunatley, to switch to "Focus" or "Full Screen" mode , you'd need to "manually" set this option from the meeting tray more button option.
And this feature (as some other features, unfortunately) is something some other users would also want to have.
There is nothing we can do to change this "default" behavior, but we can, at least, participate in the official UserVoice forum to submit this improvement suggestion to developers:
https://feedbackportal.microsoft.com/feedback/forum/ad198462-1c1c-ec11-b6e7-0022481f8472
The UserVoice is a forum Microsoft monitors customers feedback and bugs. If the feedback has a lot of votes, chances are it will be considered by developers, and fixes would be added to the product and services in the future.
Notes:
There was an issue (a bug) with " Focus on content", and by the Microsoft Team answer, they have fixed it (We've made improvements).

Community

And this isgood: shows that UserVoice votes works.

There is already an open ticket, to ask to " Focus on Content" to be default (in other words, we don't need to manually choose it).

If you have sometime, please Vote there.