With faster internet speed and high performance, low-latency connectivity, Qualcomm FastConnect 7800 takes immersive gaming to a whole new level with Wi-Fi 7.
Wi-Fi 7 Multi-Link Operation (MLO) allows Qualcomm FastConnect 7800 to provide unprecedented speed and stability by manipulating multiple wireless connections at once to achieve maximum bandwidth. This is good news for gamers who need stable, low-latency connections to stay on top of the action and gain a competitive advantage.
Qualcomm FastConnect 7800 supports the most advanced version of MLO, known as High Band Simultaneous Multi-Link or HBS Multi-Link. This allows a connected device to aggregate both bands simultaneously, creating a new ultra-wide channel. With speeds up to 5.8 Gbps, gamers can rely on HBS Multi-Link to support a seamless experience in even the most demanding online games, no matter how crowded or congested their network may be.
HBS Multi-Link can also be used to create a high-speed link across two devices. This gives gamers the opportunity to experience completely wireless VR gaming straight from their PC without lag or hang ups. No matter how complex or demanding the application may be, HBS Multi-Link ensures the connection remains seamless and strong so gamers can explore the world of VR like never before.
As the demonstration in the video shows, Qualcomm FastConnect 7800 unleashes the true power of Wi-Fi 7, with data transfer and download times that take half as long compared to Wi-Fi 6. With unbeatable speeds and blazing fast downloads, it's the best way to experience wireless gameplay.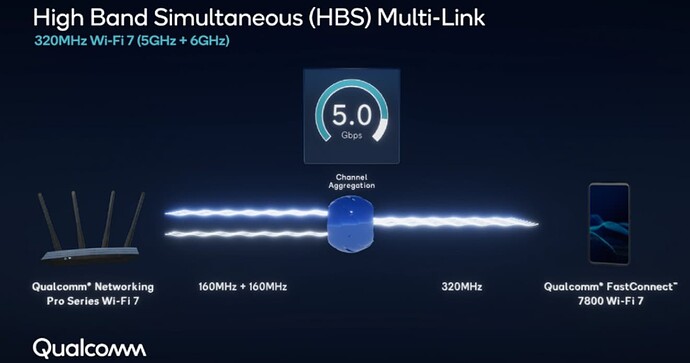 Watch on YouTube:

https://www.youtube.com/watch?v=pclg_LXz5eQ