Introduction
When you establish a connection using your mini USB modem, can you get basic information as the signal level in dBm and server sector? And information like Cell ID and LAC, hard?
If you are not satisfied with the simple information of five bars, then it is worth knowing MDMA - Mobile Data Monitoring Application.
Installation and License
No need to install the application, just unzip the contents of the ZIP file to a folder and run the EXE. Simply download the ZIP file from the site.
Program Site:
(Click the 'current' version to download).
Program
The program is freeware, ie anyone can use, provided for private use and not commercial. It monitors the connection to your mini USB modem. Several models are supported from vendors such as Huawei, ZTE and Nokia. The program author has support of several contributors who are always helping with new features and support for more devices.
MDMA shows various interesting information such as: LAC, RNC ID, Cell ID (the server sector), APN, MCC, MNC, IMSI, model of the modem, IMEI, carrier name and the protocol used (HSDPA, 3G, GPRS /EDGE, etc .).
The program also shows the RSSI (signal level in dBm) and records the amount of bytes downloaded and uploaded, and can even be reset. There are some other indicators such as average speed, instantaneous, peak and hired.
Furthermore, it is possible to make a log of connection statistics (rates, peaks of connection, etc…) registering the information collected. This is not an indoor testing software (remeber is for private use or non-commercial), but it helps a lot!
The following is a screen showing some of the information provided by the application. In the fields appear in yellow in the figure the information provided.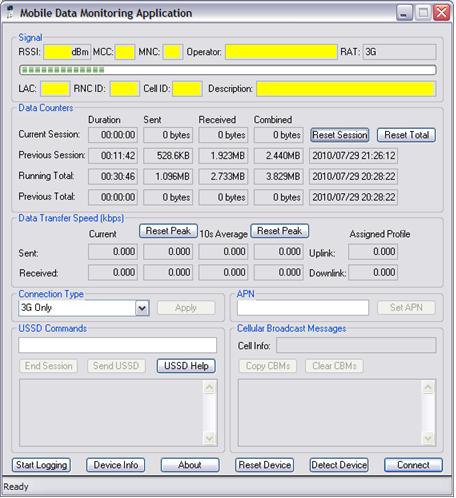 As you can see, is quite intuitive. Let's just talk a little bit of each button found at the bottom of the program interface.
Start Logging Button
With this button you can specify a location and file (CSV) to register the connection information.
Fields log are DATE, TIME, MessageID, MESSAGE, RSSI, RAT, MCC/MNC, LAC (HEX), RNC/CellID (HEX) and CellID (DEC).
Device Info Button
It presents the information in your mini modem, such as manufacturer, serial number, IMSI, etc…
About Button
If you like it and want to contact the author, use this button to send an SMS to him!
Detect Device and Reset Device Button
Needless to say what these buttons do, right? Anyway, detects and resets the device.
Connect Button
Finally, the button you must use to make your connection. Select the connection used/provided by your ISP - should be available in the list box.
Conclusion
This was a brief summary of the program MDMA - Mobile Data Monitoring Application, an excellent program that allows you to monitor your connection. The program's website you will find a help file, which is also available in the ZIP file you downloaded.
Note: We recommend also using the excellent Networx program - which has been shown here - and that can be used in conjunction with MDMA, further facilitating its work on monitoring your connections.
We hope you've enjoyed. If you have any doubts, find the answers posting your comments in the blog or via our support via chat or email.
Till our next meeting, and remember: Your success is our success!