Toward the 5G and 6G Era - The mmWave World expanded by Liquid Cristal - Variable Directional Type
5G and 6G communications are expected to be utilized in a variety of fields.
However, the radio waves (mmWaves) to be used in 5G and 6G are difficult to reach over long distances.
Because mmWaves have a strong linearity and are easily blocked by obstacles.
To solve this problem, a liquid crystal metal meta surface reflector can be used.
So it is now possible to control the direction of reflected waves - without changing the angle of the reflector itself!
"Controlling the direction of reflection without changing the angle of the reflector."
This is how it works:
The reflector includes a structure in which the "LC" between the "reflection elements" and the "ground electrodes".

LCs are controlled by TFT.

So it is possible to control the orientation of LC by applying a voltage.

The orientation of LC molecules changes the phase of reflected waves.

The phase distribution changes the directions of reflected waves.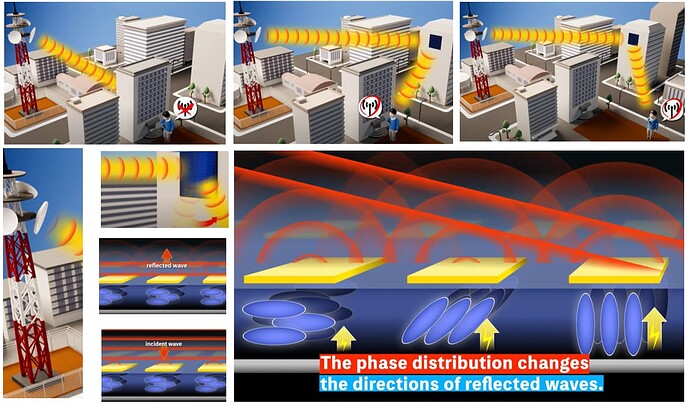 JDI has fully applied its Liquid Crystal Display technology to the world of radio waves.
Watch complete video with all explanations here:

About Liquid Crystal Meta-Surface Reflector - YouTube