It is a method of accessing the internet using communication satellites orbiting the Earth.
Satellite internet works by transmitting and receiving data signals between user equipment (such as satellite dishes) and communication satellites in space.
Here's how satellite internet connectivity works:
Upstream and Downstream Communication: Satellite internet involves two-way communication: upstream and downstream. Upstream communication refers to data sent from the user's equipment (like a computer or smartphone) to the satellite, while downstream communication refers to data sent from the satellite to the user's equipment.

User Equipment:To access satellite internet, users need a satellite dish (also called a VSAT dish) installed at their location. The dish is equipped with a transceiver that can transmit and receive signals to and from the satellite.

Satellite Constellation: Satellite internet providers deploy a constellation of communication satellites in orbit around the Earth. These satellites are strategically positioned to cover specific geographical areas. The satellites are often in geostationary orbit, where they remain fixed relative to a specific point on the Earth's surface.

Data Transmission: When a user requests data, such as loading a webpage, the request is sent from their device to the satellite dish. The dish then transmits the request signal to the nearest communication satellite in the constellation.

Data Routing: The communication satellite receives the request signal, processes it, and routes it to the appropriate ground station on Earth. The ground station is a facility with large antennas that are equipped to communicate with satellites in orbit.

Internet Backbone: At the ground station, the request is relayed to the global internet backbone, which is a high-speed network infrastructure that interconnects various data centers and networks around the world.

Data Retrieval: The requested data is retrieved from the internet and sent back to the ground station. The ground station then transmits the data signal to the satellite, which relays it to the user's satellite dish.

User Access: The satellite dish receives the data signal and passes it to the user's device, which displays the requested content on the screen.
It's important to note that satellite internet connectivity has some unique characteristics:
Latency:Satellite internet can have higher latency (signal delay) compared to terrestrial connections due to the long distance that signals must travel between the Earth and the satellites in space.
Speed: Modern satellite technology has significantly improved data speeds, but they can still be affected by factors like the satellite's position, weather conditions, and the number of users sharing the same satellite.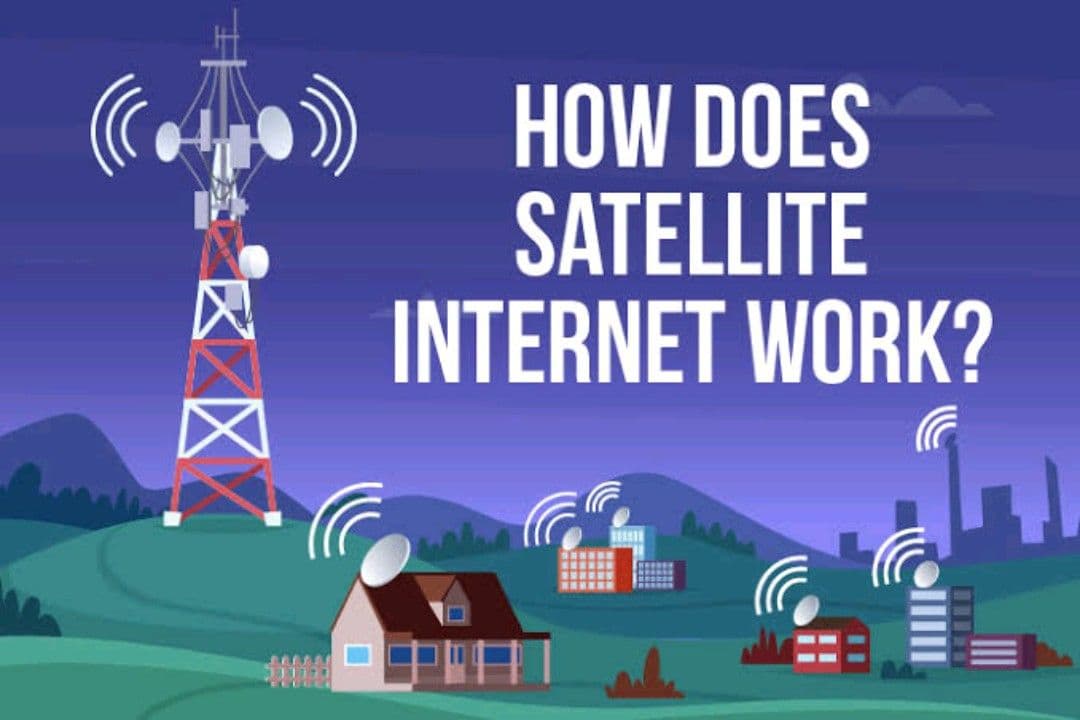 Source: Mohamed Darkedima on LinkedIn: #satellite_internet_connectivity #5g #telecom #satellite #technology