Explaining the solution diagram were FWA + 5G Network + WiFi6 are working hand in hand to create classical use case to provide network to IT Tech Park Offices & etc…
Image Explanation: A Classical Example in which we are using 5G FWA for Outdoor Users (For example - Office campus location) & Indoor Users (Consider the top floor in the below diagram)
WiFi 6 + Switch as an Extender for Other floors where 5G FWA wifi range is not available.
A similar type of connectivity will be done for all Offices / Halls / Malls / Hospitals / Colleges, etc locations, which creates multiple use cases.
Make a note - We need to install an FWA-related Antenna / Infrastructure on the 5G Telecom Cell Tower Site (Additional Antenna / Accesspoint / Access Unit), which will be operating at a specific frequency to avoid interference.
Image - High-Level Connectivity diagram for IT Tech Park Office Scenario were FWA + 5G Network + WiFi6 are working hand in hand.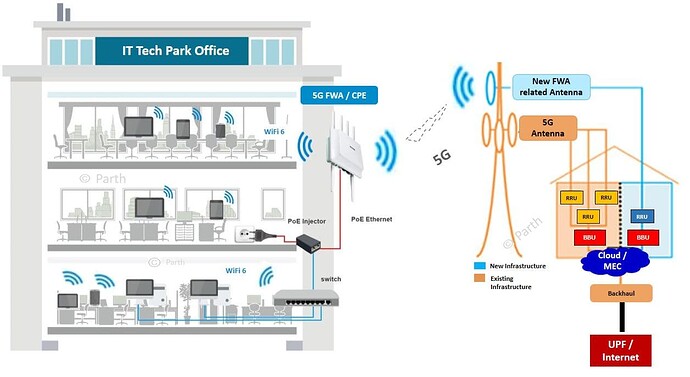 LinkedIn: