Intra LTE…
Intra eNodeB.

It's between cells when a UE moves from one sector to another sector which are managed by the same eNB.

Inter eNodeB.

Handover within an E-UTRAN. The procedure for when a UE is entering a cell managed by the eNB from a cell managed by a second eNB.

Inter MME (Mobility Management Entity).

This handover is triggered when the UE moves from one MME area to another MME area.

Intra MME.

When the UE moves from MME to another MME in same area.

Inter SGW (Serving Gateway).

When the UE moves from one SGW area to another SGW area.

Intra SGW.

UE moves from SGW to another SGW in same area.

Inter Frequency.

Inter-frequency handovers are employed when a mobile device moves from one frequency band to another, typically from one carrier frequency to another.

Intra Frequency.

Intra-frequency handovers occur when a mobile device moves within the same frequency band and connects to a different cell but on the same frequency.
Inter LTE…(Inter-RAT).
Inter-RAT (Radio Access Technology) Handover, also known as Inter-Technology Handover, occurs when a mobile device needs to switch between different radio access technologies.
such as…

Handover to WCDMA.
Handover to GERAN.
Handover to CDMA.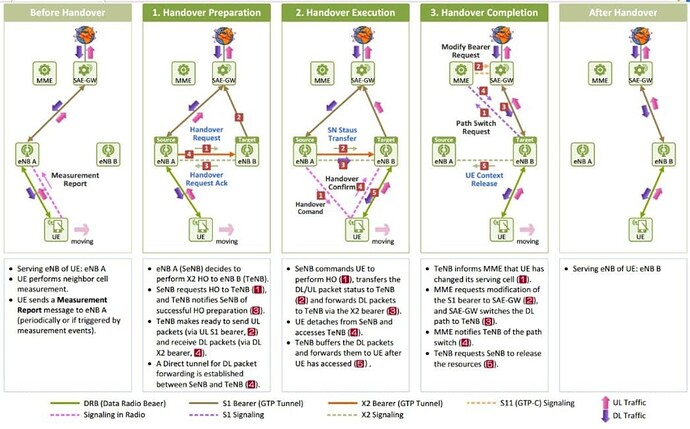 Credits: