Introduction
As you're already used to, we try to bring to you the best tips in the Telecom and IT area.
Not always the focus is only these areas, as today's tip, which can be used in different circumstances - always with the goal of improving your user experience.
So, let know today an excellent image editor, online and free. The Pixlr Editor.
Why use an Online Image Editor?
The first question that arises is 'Why use an online editor'?
The answer may be quite large, but one of them, and perhaps the main, is that you can access it from anywhere, whenever there is need.
We've already recommend here a Free Picture Editing Software, the Serif PhotoPlus. In its tutorial, you had the opportunity to know some of its uses for Telecom.
But suppose you're needing to do some adjustments on one image - for example the final retouch for an imminent presentation, and you're away from your computer. What do you do?
You can simply access this Editor website, and make any adjustments - online!
This alternative represents also the global trend of use of online programs. See for example the Worksheets and online Text Editors, such as those from Google, widely used.
So, let's learn more about this resource?
Editor's Website
To use the Editor, simply access its website using the Browser of your choice:
Website:
As expected, there is nothing to install. So let's get right to the use.
Editor Interface
The first thing that comes up is a quick access screen (1), where you can create a blank image or open an image from several sources.
Closing this initial window, we have the main interface: workspace, menus and taskbar – very common on these types of editors.
Menus and Functions
Just a quick check of the enormous amount of Menus (and functions) available to realize that the editor leaves nothing to wish compared to the best and most well known programs like Photoshop and Corel Draw.
As you can see, the editor offers a very large amount of editing options like layers, settings, filters, views, language and help.
Remember, however, that is not our purpose here to explore each of these items, but only share with you the option to use this resource.
Depending on your level of knowledge in image editors, you won't find any difficulties, and will adapt very quickly.
And even if you don't have experience, the use of the editor is quite intuitive.
Anyway, here are some basic tips and suggestions.
Set the program to use your preferred language
The first tip, before starting to use the program is: change the language to your favorite language. To do this, simply use the Menu: Language (1) -> Your Language (2).
At this point, the program is 'restarted', and we have again the Quick Access Window.
Use full screen
Another interesting tip is the possibility to use the program in full-screen, giving a real impression of a traditional Desktop program. For this, simply access the Menu: Show (1) -> Full-screen mode (2).
To exit full-screen mode, just press 'ESC'.
Open an image to begin
With the program in your language, in full screen mode or traditional (Browser) you are ready to begin. Note: in the example above we chose 'French', but the example images will continue in the English language – standard in telecomHall demos.
In the window above, you can start 'creating a new image' (1), totally from scratch.
But it also has the option of opening an image located on your computer (2). Simply navigate to where your picture is and click 'Open'.
You can also open an image from any URL (3).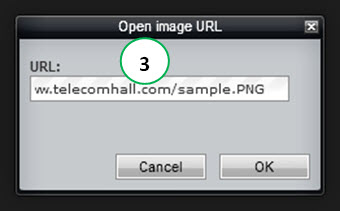 Or you can open an image in some library as Facebook or Google Drive. In this case, simply Login (4) – you can log in with your Google account, or Create a new free account – clicking 'Sign up to pixlr' (5).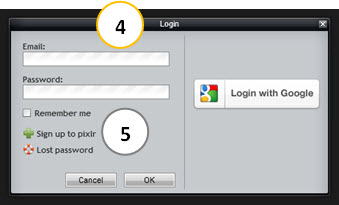 Regardless of how you start, soon you will have available at your desktop virtually any possible editing options — from the simplest to the most advanced.
Make changes to your image
With the image opened, make any changes you want – leveraging all the Menus (1), and also the taskbar (2) and browser Windows (pixels) (3), Layers (4) and History (5).
Pixlr still has functions to improve the user experience, such as ScreenTips and Hot Keys (1). In the example, hovering by the Lasso tool, the ScreenTip appears - with its name, and also the Hot Key – just type 'L' and the Lasso tool becomes active in the current image (2).
Save your image
After you make all your desired changes, save your 'new' image.
To do so, simply access the Menu: File (1)-& gt; Save … (2), and then choose the location where you want to save your new image. In addition to your own computer, you have the option of saving in other locations (3) such as Flickr, Picasa or even a own server Pixlr: imm.io. The option to save the image in the imm.io image server can be interesting for sharing images with others.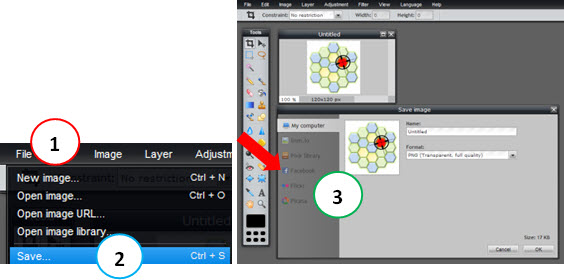 Advanced Functions
As already mentioned, Pixlr has lot of advanced features (layers, filters, etc.). However, our goal today has already been achieved: demonstrate this resource for you.
If you are interested, feel free to explore all the features. For this you can use the help. Note that we're talking about an online application, and thus, your help is also Online. This includes Blog and discussion with other users!
A little 'Relax' time…
Now that you've met this nice resource, let's relax a little.
Remember that traditional photo of you, that you have saved in your computer? How about putting one (or more) professional(s) effect(s) in it?
It is very simple, and for this we call another application via the link just below the initial window. Just click on the link 'Add a vintage retro look to your images-Pixlr-o-matic!'.
Using the intuitive interface, open your photo, choose the desired preset effect. If you wish, make even more adjustments. And done!

Your new image can now be shared with your friends.
Conclusion
This was another tip, or suggestion, that we from telecomHall presented to you.
A totally free online application for image editing, Pixlr.
With a clean and intuitive interface, the Pixlr has a fairly rapid response to commands, in addition to enhanced imaging features, including layers, filters, curves and levels.
If you like, continue to follow our site, motivating us to find and publish even better content to you.
Until our next meeting!