Fast Charging has become almost a standard feature.

Smartphones with fast charging (>10 watts) accounted for almost 80% of global smartphone sales in Q1 2023, compared to 74% in Q1 2022.

In Q1 2023, the average power for fast-charging smartphones globally reached 34W, compared to 30W in Q1 2022.

Chinese smartphone brands are leading this trend by introducing higher-wattage charging across different price points.

Notably, this also ties well with our Consumer survey done earlier this year. According to the findings,

65% of smartphone users go through emotional discomfort due to battery drainage.
72% of the respondents start feeling anxious at a battery level of 20% or less*.

This makes sense considering how important a smartphone has become with people spending 4 to 5 hours a day on their smartphones. This has resulted in NoMoPhobia.

Hence consumers are looking for both - a long lasting battery as well as fast charging.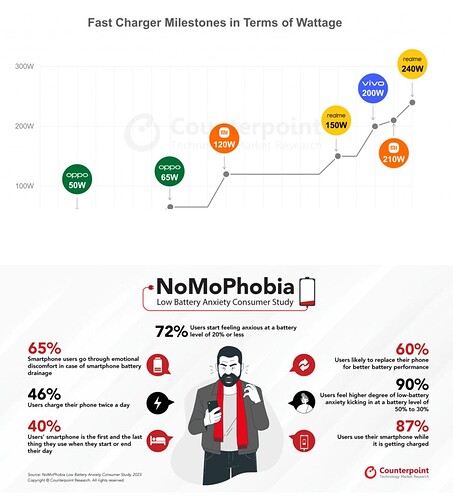 Image: counterpointresearch
More on fast charging trends here: Fast Charging Powers 80% of Global Smartphone Sales in Q1 2023, Averaging 34W
More on NoMoPhobia here: Survey: 72% of Smartphone Users in India Experience Low-battery Anxiety
Credits: