Cell Reselection from LTE to 5G NR SA (Stand alone) , Idle mode Mobility from LTE to 5G NR SA

To assist the 5G NR SA capable devices to reselect the 5G NR cell from 4G/EUTRA Cells in the Idle mode, SIB24 must be broadcast by the 4G/LTE serving cells. LTE SIB24 broadcasts the information related to the NR SA frequencies.

3GPP Specified up to 8 NR carriers to be broadcast via LTE SIB24 using their ARFCN (the center frequency of the SS/PBCH Blocks). Multiple operating bands can be linked to each of the specified ARFCN, i.e. in the case that operating bands overlap (e.g. N77 and N78).

If the Cell Reselection Priority of the 5G NR Carriers is set higher than the LTE serving carrier, then UE must always measure the 5G NR frequencies regardless of the UE release.

Here I try to depict how a 5G NR SA capable device can reselect a 5G NR cell from an LTE cell.

I prepared a video related to the 5G NR-DC and uploaded it on my YouTube channel. if you would you like to watch it, here you can find the link of video: 5G NR-NR Dual Connectivity (NR-DC/NRDC) #5g #4g #telecom - YouTube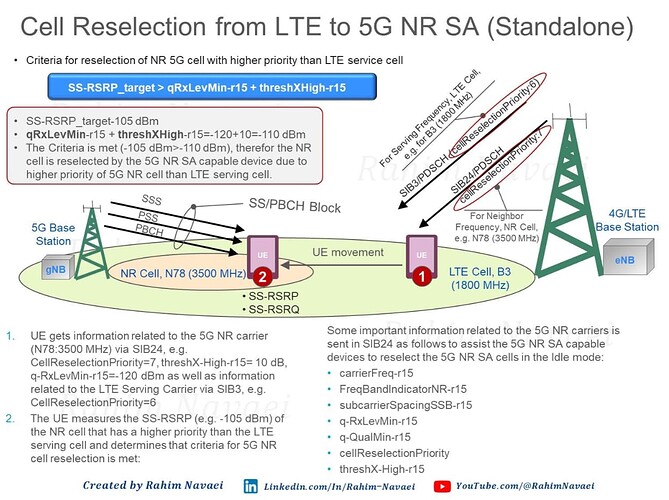 LinkedIn: