Case Study published by the TM Forum on Jio's Cloud Native innovations in 5G, Cloud Native deployments and next generation OSS and BSS.
Who: Reliance Jio and Jio Platforms

What: Transitioning its vast and complex 4G network to cloud native and 5G

How: Jio Platforms designed, built and deployed new tech on cloud native platforms that is backwardly compatible with all BSS/OSS functions

Results: Network management reduces annual maintenance costs by 90%, provisioning more than 5,000 sites with zero-touch; fulfilment management delivers an estimated 50% rise in operational efficiency
The Indian mobile network operator Reliance Jio faced unique challenges in transitioning a 4G network of tightly integrated physical network functions to a cloud-native infrastructure. While it was paramount to encourage migration to container-based applications, it was also important to make it as pain free as possible for the operations team which manages such a large network.
Jio Platforms designed and deployed new technology capabilities using cloud native platforms built from scratch to ensure backward compatibility with all OSS/BSS functions.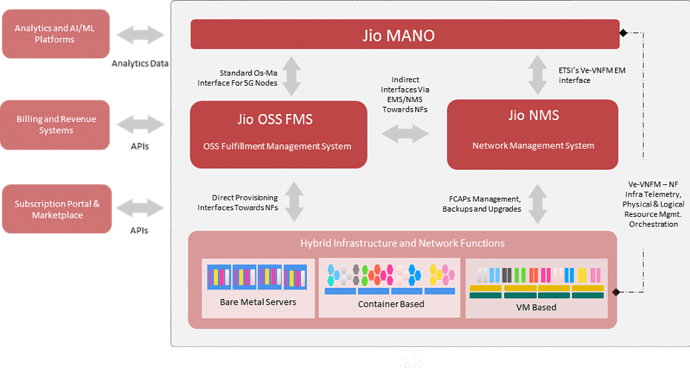 Source: