5G-RAN Planning, Design & Deployment Using ONAP (Zero-Touch Approach)
We all have surely heard about zero-touch provisioning for Cloud-Native 5G RAN. Some vendors or even CSPs have demonstrated it in field now a days.
Open standards like ETSI, ONAP Project & ORAN have listed this use case for accelerated deployment of 5G services. This post is focused on the zero-touch provisioning flow as per the ONAP.
All sequential steps are here (picture – from ONAP), which are self-explanatory to understand the whole sequence.
If someone is looking for the details of all the ONAP components and their functionality, then they must go to ONAP official page and see the architecture.
Here I would like to mention some key phases:
RAN Planning database: no. of sites/cells/nodes, coverage, capacity & quality requirements, locations etc.

RAN service design definition in ONAP: Single disaggregated GNB service model will be composed of CNFs & PNFs models. It is highly possible that these models belong to multiple vendors, so Service model (ONAP based) may support different models provided by different vendors. But it is better to have streamlined & structured templates definition for service models for all vendors.

RAN Service Deployment: One single service order will be used for each gNB deployment. Therefore, a correct sequence of network function deployment is must e.g. first CU, then DU, then RU, and finally CU connection to Core networks.
Such deployments could take place in hybrid + multi cloud environment, hence service orchestrator capability to engage with various cloud infrastructures is a must. There could be the role of cloud provider specific adapters to be used or using solutions like ACM from Red Hat or VMWare Aria from VMware etc. which can engage with a mix of private-cloud & public-cloud simultaneously.
Inventory database update is crucial, i.e., deployed RAN nodes topology should be updated in the inventory as soon as they exist.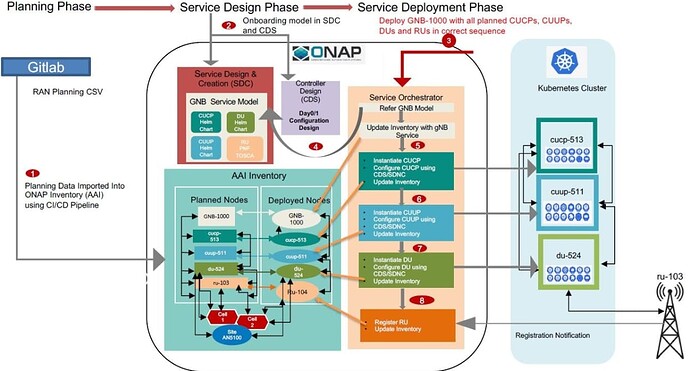 LinkedIn: