You can use Boda-Lite without loading data into a database, but in this case you will miss out on a lot of features already available, and also new features in near future.
In order to improve your experience with Boda-Lite, we recommend installation of PostgreSQL database so that the tool can do further analysis on your data. As PostgresSQL requires elevated privileges to be run as a service, you need to manually install it.
Steps to install PostgreSQL database
1. Download latest version
Download latest version (version 10.9 is recommened ) installer from the Enterprise DB Download page
2. Run Installation
Click the installer to start the installation and follow default installation steps
Install Microsof C++

Setup PostgreSQL

Installation Directory

Select Components

Data Directory

Password
IMPORTANT
The database will have a superuser:
postgres
Here you can define the password you're going to use later, when setting up the database.
Choose the password you want. We suggest:
boda
Port

Advanced Options

Pre Installation Summary

Ready to Install

Installing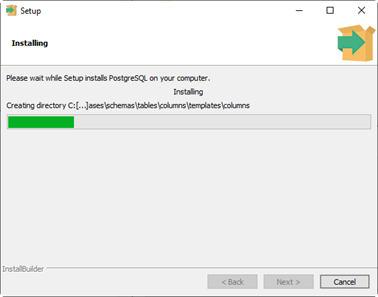 Completing the PostgreSQL Wizard

After you click Finish, a new Window appear…
Close it - setup will be done via Boda Lite interface.
3 Set PATH Environment Variable
After installation, there's still an important step; You need to update the PATH environment variable by adding the PostgreSQL bin directory. Before the PATH has been updated, you will get the error below when you run psql.exe in command prompt:
'psql' is not recognized as an internal or external command, operable program or batch file.
By adding the PostgreSQL bin directory to the PATH environment variable the psql command will be available in the system PATH). Follow the steps shown below to update the environment PATH variable.
3.1 Edit the system environment variables (Control Panel)
3.2 In System Properties, click "Environment Variables" button.

3.3 Under "System variables", click "New" button, and add path to psql.exe (by default, at the time we wrote this, the path was: "C:\Program Files\PostgreSQL\10\bin")
Click OK.
Restart Computer!
Type psql --help in the command prompt to confirm that the PATH has been updated.
4 Setup Database
Now, to finish, you need to setup database.
Restart Boda Lite.
4.1 In the System tab, click Settings.

4.2 And in Setting tab, click Database.

4.3 In Database tab, fill the Password with the one filled during Installation.

4.4 No you're done.
Just some more few clicks…
4.4.1 Click Update button: to save new credential info

4.4.2 Click click Setup database button. This will create the application database (boda), user(bodastage) with password (password) and also create other database objects such as tables.

4.4.3 Click Test Connection button: to confirm everything is fine.

If everything is fine, you should see the message: Connected successfully to server.

Troubleshooting
If database is not OK, and you click Test Connection, you will receive an error:
Failed to connect to postgresql://postgres:boda@127.0.0.1:5432/postgres. error: password authentication failed for user "postgres"
Resources